Golf Legend Byron Nelson Dies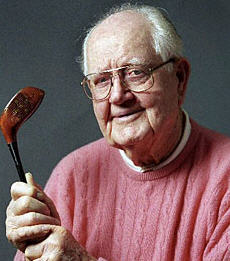 Golf legend Byron Nelson died Tuesday September 26. He was 94.
The Waxahachie-native had the greatest year in the history of professional golf when he won 18 tournaments in 1945, including eleven in a record row.
There was no cause of death listed on the Tarrant County Medical Examiner's Web site.
Known as "Lord Byron" because of his elegant swing and gentle manner, Nelson won 31 of 54 tournaments in 1944-45. Then, at the age of 34, he retired after the 1946 season to spend more time on his Texas ranch.
In the 1960s he worked for ABC as a golf analyst alongside the great Chris Schenkel.
Nelson was one of the best players of his era. He won the Masters in 1937 and '42, the U-S Open in 1939 and the PGA Championship in 1940 and '45.
He also finished second once in the U-S Open, twice in the Masters and three times in the PGA. Nelson played in British Open only twice, finishing fifth in 1937.
Nelson's long, fluid swing is considered the model of the modern way to strike a golf ball. His kind, caring style with fans and competitors made him one of the most well-liked people in sports.
Nelson was born Feb. 4, 1912, on the family farm and started in golf in 1922 as a caddie at Glen Garden Country Club in Fort Worth. One year when he won the caddies' championship, he defeated Ben Hogan in a playoff.
Golfing great Arnold Palmer has said "Nelson accomplished things on the pro tour that never have been and never will be approached again."