Bud Collins, Hall of Fame Tennis Journalist & ASA Member, Dies

by Patrick Turturro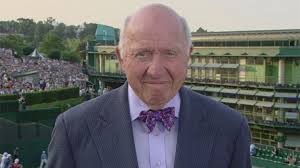 FOR IMMEDIATE RELEASE
March 4, 2016 - Bud Collins, Hall of Fame tennis journalist for over 50 years, passed away on March 4 at his Brookline, Mass. home. He was 86.

"A great talent, a great voice and a great gentleman passed away today," ASA President Lou Schwartz said. "Bud's contributions to tennis will live on forever. Rest in peace, old friend."

An Ohio native, Collins started writing for the Boston Herald while he was still a student at Boston University. He joined the Boston Globe in 1963, the same year he began broadcasting tennis tournaments for WGBH, Boston's educational television outlet, which pioneered TV coverage of the sport. While still at The Globe, Collins joined CBS Sports in 1968, becoming one of the first print reporters to make the transition to television.
 
Known for his signature bowties and flamboyant attire, Collins began a 35-year run at NBC Sports in 1972. His "Breakfast at Wimbledon" coverage featured live broadcasts of the tournament's finals on weekend mornings, replacing the taped matches the network would normally air.  

After leaving NBC in 2007, Collins continued to cover the sport he loved, working at ESPN and the Tennis Channel, as well as writing a column for The Globe, with his last byline coming in 2011.

ASA Chairman Dick Enberg, who teamed with Collins on NBC and ESPN, paid tribute to the longtime ASA member via Twitter:

Just learned Bud Collins has died, a generous giant, a friend to anyone who cared about tennis...the sport's dominant voice forever. RIP.

Among his many honors, Collins was inducted into the International Tennis Hall of Fame in 1994 and was the 1999 recipient of the Red Smith Award from the Associated Press Sports Editors. In  September 2015, the USTA named the press center, "The Bud Collins U.S. Open Media Center," in his honor. Collins attended the ceremony with his wife, photographer Anita Ruthling Klaussen.

Collins is also the author of eight books, including The Bud Collins History of Tennis: An Authoritative Encyclopedia and Record Book.
*                         *                          *