Bob Sheppard, Longtime Voice of Yankee Stadium, Retires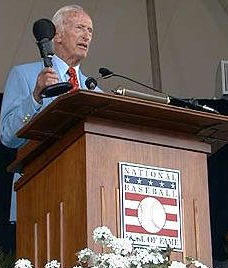 NEW YORK (AP)—Bob Sheppard has no intentions of returning to his longtime job as the public address announcer at Yankee Stadium, MLB.com reported on Nov. 26.
Sheppard, who is 99, hasn't worked a game since late in the 2007 season due to illness.
"I have no plans of coming back," Sheppard told the Web site in a telephone interview. "Time has passed me by, I think. I had a good run for it. I enjoyed doing what I did. I don't think, at my age, I'm going to suddenly regain the stamina that is really needed if you do the job and do it well."
When contacted by The Associated Press, Yankees spokesman Jason Zillo said the team had no announcement or comment at this time.
Famous for his distinct and resonant tones, Sheppard became the PA announcer at the old Yankee Stadium in 1951. Decades later, Reggie Jackson gave him the nickname "The Voice of God."
Sheppard has called out names from Joe DiMaggio to Mickey Mantle to Derek Jeter over the years. For the final game at the old park in 2008, he recorded a greeting to fans and the introduction of New York's starting lineup.
Paul Olden took over as the public address announcer at the new Yankee Stadium this year in Sheppard's absence. Jim Hall, a longtime backup, filled in for Sheppard late in 2007 and last year.
But when Jeter steps to the plate, it's still a recording of Sheppard's voice that rings out: "Now batting for the Yankees, No. 2, Deh-rick Jee-tuh."
Sheppard told MLB.com that he doubts "very, very much" that he'll be able to resume his duties for even one game next season.
"It's not just the two hours or three hours of baseball," he said. "It's the trip, the preparation, the trip home, and a long, long day. I think at my age, it's time to accept the fact that I had a great run. A great run. And I only made a few mistakes along the way."