Bob Sheppard Interview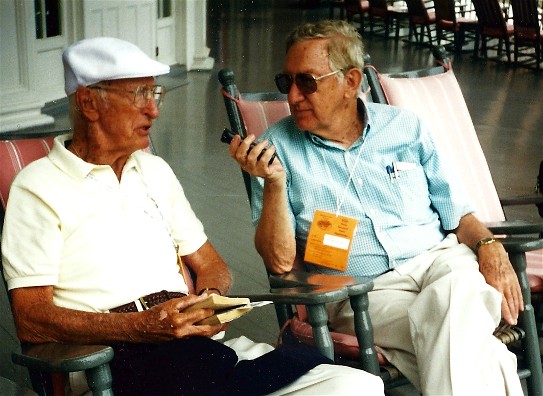 The following is an interview of longtime Yankee Stadium Public Address announcer Bob Sheppard which was conducted by ASA President Lou Schwartz at the Baseball Hall of Fame in Cooperstown, NY, on July 25, 2000.
Lou Schwartz: Yesterday was a very special day for you. You made a presentation to the Baseball Hall of Fame of your microphone used for Yankee Stadium announcements for over 50 years. That was quite a treasure.
Bob Sheppard: Well in about 10 minutes, my wife and I are going over to the museum because I was told that the microphone is already on display. So were going to take a picture of me and my microphone.
LS: It's quite an honor for someone to appear in front of all those people. They honored you not only for your microphone but for your 50 years of service. Tell me a little bit about how you started.
BS: I have never felt that I was a celebrity. All I have to recommend is longevity. I started in 1951 and I'm still there. On May 7, when they gave me a day at Yankee Stadium, I ended my acceptance speech by saying, 'In April 2001, I intend to start my next 50 years in the booth.' I see no reason for stopping.
LS: How did you get your start?
BS: I started doing football in an exhibition game in Freeport, Long Island. The game was between the New York Yankees football team and the Chicago Rockets in the All-America Conference. I volunteered to do it because I had been playing semi-pro football for years, I was teaching speech, and I was a football fanatic. So I volunteered to do the public address for this charity game. At the game, there was a man who represented the Brooklyn Dodgers football team. He said I should come down to Brooklyn and apply for the public address job. They wanted a public address announcer for football at Ebbets Field. The next day I went down and introduced myself and they said, 'How much do you want? So I told them and they agreed. I worked for the Dodgers until they folded. After that, the football Yankees heard me and they wanted me. Soon after, the baseball Yankees heard me and they offered me the job I now have.
LS: How much was your first salary?
BS: Believe it or not, when I went to the Dodgers and they asked how much did I want, I asked for the unbelievable fee for that time of $75 a game. And they gave it to me. No wonder they went broke.
LS: I asked Curt Gowdy the same thing and he told me he was paid $25 a week. And he did the news and was the Sports Director.
BS: When I was teaching, I made $25 a week. I was also getting $25 a game for playing quarterback in a semi-pro league on Sundays.
LS: Where did you teach?
BS: I taught in the public schools and high schools in New York and for the last 20 or 30 years. I was also a professor of speech at St. John's University. Teaching is my career. Public address is insignificant in time and in career-wise thinking. I would rather be known as a good teacher of speech rather than as a public address announcer. It's more important to me in my life. People don't know of me as a teacher. They think, 'Oh that's the guy who works at Yankee Stadium 81 days a year.' That's short sighted. I wish people would say he was a great teacher and he also did public address. I studied speech at St. John's and took my Master's Degree at Columbia. I started teaching speech as a young fellow in my 20s and I continued up until about two years ago when I retired and I loved every minute of it. I did football and basketball for St. John's. I did the New York football Giants. I did the New York Titans. I did professional soccer at the Polo Grounds. You name it, I did it. I did West Point football, Army-Navy games. I probably was the only public address announcer who worked Ebbetts Field, the Polo Grounds, Yankees Stadium, Shea Stadium, and a dozen other stadiums.
LS: I know I'm taking up your time but I'm glad we had this talk because this is what I enjoy most, finding out what a person is really like and not what he is most known for.
BS: That's a criticism of society, where my sports activity seems to cut down on what I really contributed to society, and that's teaching. I think teaching is an honorable profession. I'm not putting down public address. I think that's a service I give to the people of Giants Stadium and Yankee Stadium. I give them information. But with teaching, I hope I gave them education and maybe inspiration. And when I hear from former students and they say I helped them achieve their goals, I feel I have contributed to society more than all I have done in sports.
LS: Was there ever a time you had an embarrassing moment in the booth?
BS: One day at Yankee Stadium, I was in the booth with my backup announcer who was visiting with me and I simply introduced Shane Rawley as a relief pitcher coming in with men on base near the end of the game. My mike had a short circuit so it was still live after the introduction. His first pitch was hit for a double scoring three runs and I turned to Jim Hall, my backup announcer, and I said, 'What relief pitching!' My mike was live and it went out over the whole stadium. People came running in and telling me that my mike is live. The next day I went down to the locker room to apologize to Shane.
LS: Is there anyone in particular that you really enjoyed introducing or someone you have a great deal of respect for?
BS: I think I was very proud and happy to be able to introduce my early idol, Joe DiMaggio. I think up until then, people were mispronouncing his name. But being the precisionist in the way of announcing names, I gave it the Italian flavor and I think he liked it and the people liked it. I enjoyed announcing Mickey Mantle because the name has a nice rhythm to it. Mickey often told me that he got shivers up his back whenever he heard me introducing him. And I said, 'I get shivers when I introduce you.' The name has good sound to it. It's better than if it were Joe Mantle from the point of rhythm and resonance. The name Joe DiMaggio has a nice rhythm. The name Mickey Mantle has a nice rhythm. There are some names that are not rhythmical. We had a second baseman named Steve Sax. There's no rhythm to Steve Sax, two staccato sounds. The Hispanic names are so euphonious. The American names are not so because they don't have the vowel sounds and the M's and N's that add to the beauty of sound. Names are important and if they're beautiful you do the best you can with them. To me, a man's name is important. If possible, I will go to the person and ask him how he pronounces his name or how does he want his name pronounced.
LS: How would you say 'Lou Schwartz' so it sounds beautiful?
BS: Impossible!
LS: (Laughing out loud)Thank you.