Five Questions for Bob Papa
by Andrew Marchand, NY Post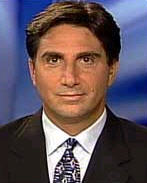 Recently the New York Post's Andrew Marchand spoke with New York Giants radio play-by-play man Bob Papa. Papa, 41, also co-hosts a Sirius NFL Radio show with Dan Reeves as well as Giants Online on YES Network. Papa graduated from Fordham University in 1986.
Q: A lot of people think Syracuse (Bob Costas, Marv Albert, Ian Eagle, etc.) is the premier place to produce sportscasters. Do you think Fordham is underrated?
A: Without a doubt. We don't get our due. We have the Yankees (Michael Kay on TV), the Knicks (Mike Breen on TV), the Nets (Chris Carrino on radio), and the Giants covered in this town, and we have a guy (Spero Dedes on radio) doing the LA Lakers. Also John Giannone on MSG- just to name a few. We are not getting our due, but hopefully we'll finally get some credit.
Q: Do the Giants put any pressure on what you say on any of the venues (radio and TV) you appear for them?
A: The Giants have to be the most secure organization that I have ever been associated with or even seen. In fact, going around the NFL in different cities- obviously with DirecTV a lot of people see our Giants Online show- the first comment we always get is, 'I can't believe that is a team-produced show. It is so much of an open forum.'
Q: When you look at some of your brethren and what they have to deal with in terms of their network or teams, how difficult do you think it is for those guys who achieved their dream, but can't always give an honest account?
A: It is our livelihood. It is easy for people on the outside to take shots at a broadcaster working with a team. The team has a certain set of aspirations and this is what we do for a living. You have to pay your bills and you have to preserve yourself to keep your job. It does put the broadcaster in a difficult position.
Q: How do you go about that?
A: The thing that I've learned is that you can be critical without being mean.
Q: Do you think there is any chance to land that Sunday Night play-by-play job on NBC with John Madden?
A: It would be a dream come true. I just love working in the NFL. Any opportunity I had, whether it is Westwood One doing more games when I get a chance to, like Thanksgiving. That is my most fun weekend of the year. I do the Cowboys game on Westwood One on Thanksgiving. I do the Bayou Classic on NBC on Saturday and there is always a Giants game on Sunday. Three football games in four days in three different cities is a perfect weekend for me. Hey, any opportunities that come I would be fired up about.