Bob Miller, L.A. Kings Broadcaster,
Savors Taste of Victory
A longtime voice of the team gets to sample champagne straight from the Stanley Cup, courtesy of the players, and reflects on the special thrill of L.A's wrapping up the Final at home.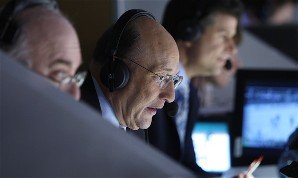 David McNew/Los Angeles Times
by ASA Member Bob Miller (Courtesy of the Los Angeles Times)
One of the things I'm most proud of is staying with the same organization for 39 years. There were seasons when, quite frankly, we knew the Kings had no chance. There were times when we were on a different radio station every year and people would tell me they couldn't get the signal. I'd think, "Is anybody listening?"
That's what made this playoff run so amazing.
It was frustrating that Jim Fox and I couldn't call the games in the Final, but I knew that would happen because NBC had the rights and that's what happens not only in hockey but also the NBA and the NFL and the World Series.
I was more nervous watching the games than I ever was working them. When you're broadcasting, you've got a lot on your mind in terms of player identification and describing the play. I'm just happy the Kings came up with some way that Jim and I could record the last three games so the fans can hear that.
The end of the series was hard. When you need 12 or 13 wins, you think maybe it will happen. Then you get down to one win and you're thinking, "Don't blow it now."
On Monday night, I thought I was going to be more emotional, but I had written out what I was going to say in the final 45 seconds so I was keeping my composure.
I said, "This is for you, all the players who have ever worn the Kings uniform and Kings fans wherever you may be. All the frustration and disappointment of the past are gone. The 45-year drought is over. The Los Angeles Kings are indeed the kings of the National Hockey League, the 2012 Stanley Cup champions."
I was just so happy they did it at home, in front of the home fans who had a chance to celebrate.
After the game, we went out to the TV set to do our postgame and somebody came up and said, "Bob and Jim, they're asking for you on the ice." Dustin Brown had the Stanley Cup and, after the players all had a chance with it, he was asking, "Where's Bob? I want to give him the Cup out here at center ice."
Well, I was still doing the telecast and, by the time I got there, the players were all gone. So I went into the locker room and got sprayed with champagne, in my eyes, couldn't see a thing. The players said, "Bob, you have to drink out of the Cup."
They're holding it to my lips with champagne in it and I still couldn't open my eyes so they poured the champagne and I got some in my mouth and the rest of it down the front of my suit.
It was nice that so many of these athletes came up to me and said they were happy for me because I'd been there for so long. Of course, they were the ones who did it — I didn't do anything — but for them to express that sentiment, well, it was wonderful.
Later we went up to the club restaurant and they had a huge party. Dustin Brown brought the Cup up there and said he'd been looking for me all night. He brought the Cup over so I could hold it above my head. I'll tell you, it was heavier than I thought.
What a thrill. For so many years, you've seen so many other teams win it and you just sit there and think, why can't we be in that situation? Why can't we win that thing? Then, all of a sudden, there it is. It's a reality.
My greatest fear was always that I would retire and the Kings would win the Stanley Cup the next year. Now I don't have to worry about that. But I'm not going to retire next year. I want to go around the league as Stanley Cup champions at least one time.
Bob Miller has been a Kings broadcaster for nearly four decades. He was inducted into the Hockey Hall of Fame in 2000 and has a star on the Hollywood Walk of Fame.
Copyright © 2012, Los Angeles Times