Bob Costas to Call
WBC Championship Game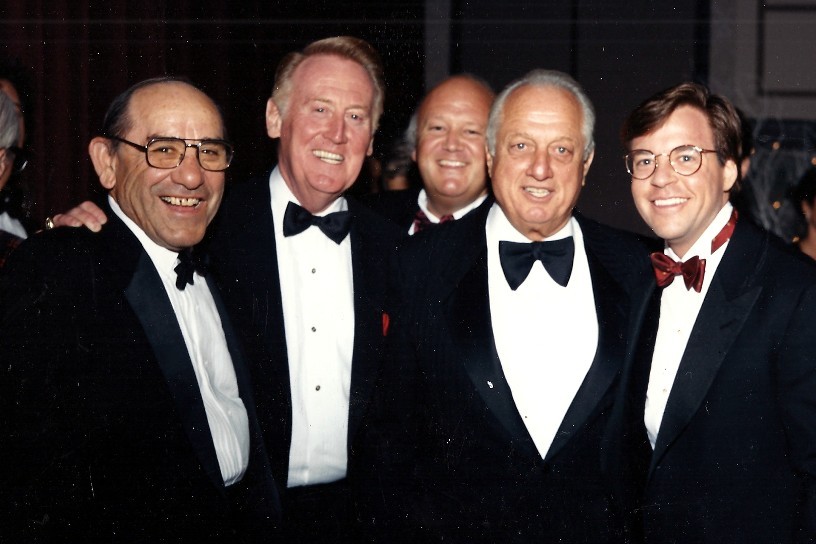 Bob Costas, the ASA's 1992 "Sportscaster of the Year" award recipient, celebrates with Yankee great Yogi Berra, "Voice of the Dodgers" Vin Scully, longtime San Francisco Giants announcer Jon Miller and legendary Dodgers manager Tommy Lasorda at the ASA's 8th annual Hall of Fame Dinner - 12/3/92

FOR IMMEDIATE RELEASE

March 1, 2013 - Bob Costas, MLB Network announcer, will call the World Baseball Classic Championship game from San Francisco's AT&T Park on March 19th. Costas, longtime ASA Advisory Board member, will team with veteran analyst Jim Kaat and reporter Tom Verducci.

MLB Network's exclusive telecast of the 2013 WBC begins on Friday, March 1, and continues with all 39 games of the tournament through the Championship.
Joe Magrane, Buck Martinez, Jose Mota, Harold Reynolds, John Smoltz, Gary Thorne, Matt Vasgersian, and Matt Yallof are among the group of announcers scheduled to call the tournament, which takes place in Japan, Taiwan, Puerto Rico, Miami and Phoenix.
*                   *                          *