Bob Casey, Minnesota Twins Public Address Announcer, Dies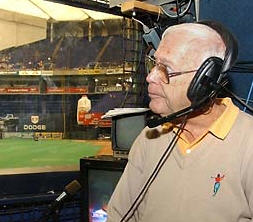 One of the truly distinct voices in the game of baseball was silenced when Twins public-address announcer Bob Casey died at the age of 79 as a result of complications of liver cancer and pneumonia.
A PA man for 44 seasons and the only one in Twins history, Casey passed away on March 27, 2005, at the Veterans' Medical Center in Minneapolis. His son, Mike, said the entire family was there.
"We were all at his side when he passed," Mike Casey said. "He battled right up until he couldn't do it anymore."
Funeral arrangements are still pending. Casey is survived by his wife of 55 years, Rosemary, three sons and several grandchildren.
The Twins said Sunday that they would dedicate the 2005 season to Casey's memory.
"He was certainly one of the signatures of Twins baseball for over 40 years," Twins president Dave St. Peter said. "Multiple generations of fans have come to know his voice and style. He had a great passion and love for the game."
Casey had battled failing health for some time and was first hospitalized with a tumor on his liver during Thanksgiving. He was released from the VA hospital in mid-January after having shed nearly 40 pounds, but he still attended TwinsFest that month and received an outpouring of support from Twins players and fans.
He also briefly visited Twins Spring Training in early March, but he contracted pneumonia as a result of unseasonably wet and cold conditions and was hospitalized again.
On Friday, Casey was administered his last rites.
"The cancer was just too tough," Mike Casey said. "It had just taken its toll. The quality of life wasn't there. We didn't want him to suffer. He's too good a guy. We wanted to remember that."
Casey began his career as a PA announcer in 1951 while working for the minor league Minneapolis Millers. He became a Major League announcer when the Washington Senators moved to Metropolitan Stadium and became the Minnesota Twins in 1961.
At Twins games inside the Metrodome, Casey was always positioned in a spot under the stands behind home plate. He will be remembered for shouting his unique high-pitched voice through the microphone when he called out players' names. His pre-game cry that there would be "Nooooo smoking at the Metrodome!" was always anticipated and cheered by fans.
"There will never be another Bob Casey, that I can tell you," St. Peter said.
During his career of calling nearly 4,000 games, Casey forged relationships with several Twins players, including close friendships with Hall of Famers Harmon Killebrew and Kirby Puckett. He befriended current members of the club right until the end.
After hearing about Casey's death, center fielder Torii Hunter recalled meeting him while he was still a minor leaguer in 1994.
"Every year, he made it his business to come say hi to me when I was on the minor league side," Hunter said. "When I came to the Major League clubhouse, he came to say hi. He went out of his way. I've known him for so long and we developed a relationship. I know that he lived and breathed baseball and the people that are in it. He's a great guy. I know people are going to miss him. He'll be missed in this clubhouse definitely."
"I knew that he wasn't feeling well, but it's just shocking," Twins pitcher Brad Radke said. "He was always a nice guy. He always said hi to you. He was upbeat, and he loved the game of baseball."
Visiting players also got to know Casey. Yankees superstar Alex Rodriguez developed a bond with him, and after learning of his grave condition from Twins radio broadcasters John Gordon and Dan Gladden, Rodriguez placed a call to Casey at the hospital.
"He's an icon in our game," Rodriguez said Saturday. "His voice will live on forever."
Casey was hoping to work part-time for a 45th season and announce his retirement in June when Rodriguez and the Yankees were scheduled to be in town.
"He spoke a lot, but it was hard to understand him," Rodriguez said of the final conversation with Casey. "His son was kind of translating what he was trying to say. His son told me that Puckett and myself were his favorites, and that he wanted to go out this year in June ... (and) have me take him out there and throw out the first pitch. It was very emotional."
What also endeared Casey to many was his humorous ability to turn the correct pronunciation of a player's name into something totally different.
Former Twins star Paul Molitor would become "Paul Monitor." Yankees Japanese star Hideki Matsui once found his name altered to "Hideki Mat-sushi." Names of such players as Juan Encarnacion or Aramis Ramirez could become almost indecipherable and elicit laughs from the press box.
Former Twins outfielder Dustan Mohr, who was already in a game, was re-introduced as the game's new right fielder, but somehow he was re-named "Dustin Hoffman."
"He'll always be remembered for screwing names up, which was great," Radke said.
Even on Opening Day last season, when the Twins game wore into extra innings against Cleveland, former veteran Indians shortstop Omar Vizquel heard something even he never heard before.
"Now batting, Ozzie Virgil," Casey announced. "Correction, Ozzie Vizquel!" At that point, all Vizquel could do was step out of the batter's box smiling as he looked in Casey's direction.
"We loved him," Hunter said. "Nobody said anything about the names or had a problem. If you knew Casey, you knew he was a great guy. You could never get upset at him at all."
A replacement for Casey has yet to be named. But everyone knows something big will be missing at Twins' home games.
"It will be totally different," Hunter said. "That's all I know -- Bob Casey's voice on the PA. For him to not call out the names, it will be a different ballpark."