New York Yankees Broadcaster
Bobby Murcer
Undergoes Brain Surgery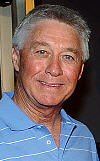 AP--Former New York Yankees player Bobby Murcer watched the Independence Bowl from his Houston hospital bed after surgery to remove a brain tumor on December 28.
Murcer, now a Yankees broadcaster for the YES Network, was alert and joking with staff and family members on Friday, a day after surgery at The University of Texas M.D. Anderson Cancer Center, according to his wife Kay.
Murcer, who watched Oklahoma State beat Alabama 34-31 Thursday night in the Independence Bowl, had been having headaches and feeling a loss of energy. The tumor was discovered following an MRI on Christmas Eve.
"We have been thrown into a situation that has required as much total focus as we can muster," Kay Murcer said in a statement released Friday by the Yankees. "With the surgery over, we are now needing to expend all our energies on decisions that will benefit Bobby's full recovery."
Yankees owner George Steinbrenner called Murcer a loyal friend.
"I am so pleased that Bobby Murcer came through the surgery so well," Steinbrenner said Friday in a release. "He has been a valued member of the Yankee family for over 40 years. Bobby is a loyal friend of mine, was and is a terrific Yankee, is an eloquent broadcaster and an extremely charitable person.
"I, and the entire Yankee organization, wish him a complete and rapid recovery — and our hearts go out to his wife, Kay, and their family. I look forward to hearing his voice, his wit and his wise observations very soon. Good luck, pal."
Kay Murcer thanked fans for their concern and asked for privacy while her 60-year-old husband recovers at one of the top cancer facilities in the nation.
"Bobby is gaining so much encouragement from all of his friends and loved ones," she said. "It has been an overwhelming outpouring of love and we continue to appreciate your continued prayers and patience.
"Hundreds of people have asked, 'What can we do to help?' And we do have one request — please allow us as a family to have the time we need to face these new challenges and the time to love each other through this next week."
Murcer played 17 seasons in the major leagues from 1965-83 and was a five-time All-Star and a Gold Glove-winning outfielder. In his career with the Yankees, San Francisco Giants and Chicago Cubs, he batted .277 with 252 home runs and 1,043 RBI.
After his retirement, Murcer won three Emmy Awards for live sports coverage as the voice of the Yankees.