NY Yankees Broadcaster
Bobby Murcer Dies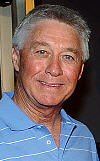 AP --NEW YORK - Bobby Murcer, a five-time All-Star outfielder who spent nearly four decades with the New York Yankees as a player, executive and announcer, has died. He was 62. The Yankees said Murcer died Saturday, June 12, due to complications from brain cancer. He was surrounded by family at Mercy Hospital in his hometown of Oklahoma City, the team said.
Bobby Murcer was a born Yankee, a great guy, very well-liked and a true friend of mine," owner George Steinbrenner said. "I extend my deepest sympathies to his wife Kay, their children and grandchildren. I will really miss the guy."
Murcer was diagnosed with a brain tumor on Christmas Eve 2006 after having headaches. He had surgery that week in Houston and doctors later determined the tumor was malignant. Determined to be around his beloved Yankees, Murcer returned to the broadcast booth last year and briefly this season.
The only person to play with Mickey Mantle and Don Mattingly, the popular Murcer hit .277 with 252 home runs and 1,043 RBIs in 17 seasons with the Yankees, San Francisco and the Chicago Cubs. He made the All-Star team in both leagues and won a Gold Glove.
"All of Major League Baseball is saddened today by the passing of Bobby Murcer, particularly on the eve of this historic All-Star game at Yankee Stadium, a place he called home for so many years," commissioner Bud Selig said. "Bobby was a gentleman, a great ambassador for baseball, and a true leader both on and off the field. He was a man of great heart and compassion."
Always a fan favorite in New York and known for his folksy manner as a broadcaster, Murcer won three Emmy Awards for live sports coverage. His most dramatic words came on one of the saddest days in Yankees history.
Murcer delivered one of the eulogies in Ohio after captain Thurman Munson was killed in a plane crash in August 1979. The team flew home after the funeral and, that night, Murcer hit a three-run homer and then a two-run single in the bottom of the ninth to beat Baltimore 5-4.
A tearful Murcer fell into the arms of teammate Lou Piniella after the game and gave his bat to Munson's wife.
"There is no way to explain what happened," Murcer said. "We used every ounce of strength to go out and play that game. We won it for Thurman."
The Yankees learned of Murcer's death Saturday after a 9-4 victory in Toronto. Visibly upset, players such as Mariano Rivera, Derek Jeter and Andy Pettitte spoke softly about how much Murcer meant to them.
"He touched everybody," Rivera said.
"One of the greatest Yankees of all-time," Alex Rodriguez added. "One of the greatest human beings I ever met."
It was the second consecutive summer that the Yankees lost a former star and beloved broadcaster. Hall of Fame shortstop Phil Rizzuto died in August 2007.
Touted by many in New York as the next Mantle — they were both from Oklahoma, played shortstop and came with strokes fit for Yankee Stadium's short right-field porch — Murcer made his major league debut as a 19-year-old in 1965.
After serving in the U.S. Army during the 1967-68 seasons, Murcer homered on opening day in front of President Nixon in 1969 at Washington to launch a career as a full-time player.
Murcer moved from shortstop to third base to begin that year, but soon was playing in center field, Mantle's old spot. Murcer also took over Mantle's locker.
"He was a tough man," Yankees manager Joe Girardi said, fighting back tears. "He was a great Yankee, but probably more importantly he was a great friend. He always put others first. He played the game the right way. He got what life was about, and that was making life better for the people around you."
Murcer spent most of his career in pinstripes. He was traded to San Francisco for Bobby Bonds after the 1974 season and was with the Chicago Cubs when the Yankees won the World Series in 1977 and 1978.
He came back to the Yankees during the 1979 season. He had a pinch-hit grand slam in the 1981 opener and was a part-time player when he reached the World Series for the only time later that year, with New York losing to the Los Angeles Dodgers.
"Just a wonderful person, a great teammate and a heck of a baseball player," Piniella said in Chicago after managing the Cubs to a victory over San Francisco. "It's a sad day."
During his career, Murcer had a three-homer game, hit for the cycle and once homered in four straight at-bats.
Smart at the plate, he beat out Willie Mays in 1971 to lead the majors in on-base percentage. The next year, Murcer set career highs with 33 homers and 96 RBIs, and led the AL in total bases and runs. He finished with more career walks (862) than strikeouts (841).
Murcer made the All-Star team for five straight seasons, starting in 1971.
"He always had that bright smile and that positive spin on everything," Yankees slugger Jason Giambi said. "He was the type of guy who never had a bad day."
Murcer retired in June 1983 and moved into the broadcast booth that season, working as a color analyst on radio. He served one year as assistant general manager of the Yankees, returned as an announcer in 1989 and stayed in the booth.
Murcer also served as chairman of B.A.T., the Baseball Assistance Team charity that provides financial help and other support to players in need.
"Sometimes you idolize somebody and you get to meet them and you're disappointed. But I've never met a more genuine person," Yankees broadcaster Michael Kay said. "What he went through the last couple of years no one should ever have to go through, but he went through it was such grace. He was an amazing, amazing guy. He was a piece of work in the best way possible."
A family service will be held within the next several days in Oklahoma City. In addition, a celebration of Murcer's life will be held at a date to be determined, the Yankees said.
Murcer is survived by his wife, his children, Tori and Todd, and his grandchildren.