Bob Wolff


Longest Running Broadcaster of All-Time
Dies at 96

by Lou Schwartz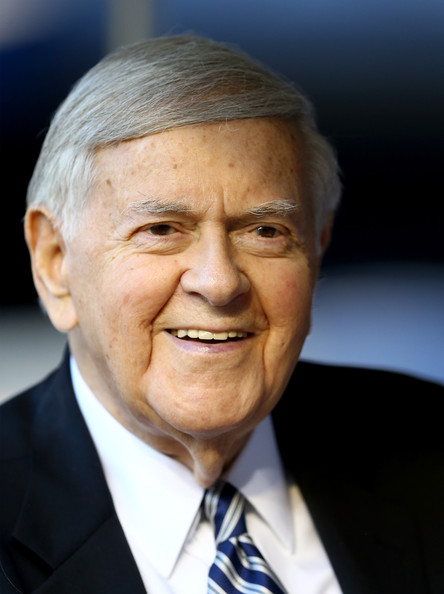 Bob Wolff

FOR IMMEDIATE RELEASE
July 17, 2017 - Bob Wolff, broadcasting pioneer and longtime sports anchor for News 12 Long Island, died on July 15, 2017, at his home in Nyack, NY. He was 96. Wolff is recognized by the Guinness Book of World Records as the "Longest Running Broadcaster of All-Time," having broadcast professionally in nine decades. He is also the only announcer to have called a World Series, NBA Championship, Stanley Cup Finals and a Super Bowl. Among his many honors, Wolff is enshrined in the National Baseball Hall of Fame, the Naismith Basketball Hall of Fame, the Madison Square Garden Walk of Fame and the Long Island Journalism Hall of Fame.
Bob was a dear friend who would call the ASA office quite often to reminisce about some of the legendary announcers that were no longer with us. Sadly, he too joins old friends like Mel Allen, Red Barber, Jack Brickhouse, Don Dunphy, Marty Glickman and Curt Gowdy, sportscasting pioneers all, who are no  longer with us.
Upon checking our answering machine, we discovered the following message left by Bob approximately two weeks ago:

Hi Lou,

Bob Wolff calling. Just thought I'd give you a ring and find out how things are going with you. Nothing important though. Call me if you're free.

I called him back and he reminded me of the following interview I did with him just last year on July 6, 2016, which highlights his illustrious career of nearly 80 years.


Lou Schwartz: What made you decide to become a sportscaster?

Bob Wolff: I wanted to become a professional baseball player but I broke my ankle and I couldn't play anymore so I decided to go into sportscasting.

LS: When did get your start in broadcasting?

BW: Professionally in 1939 with CBS Radio in Durham, NC while I was still at Duke University. In New York, I was on Ch. 11 WPIX-TV for many years. I did all the events for them. Then I went to Ch. 9 WWOR-TV and then, when Madison Square Garden took it all over, I went to work for them. When I got to the Garden, I was doing every sport they had and I did that for 36 years. I was their lead announcer in every sport.

LS: You did some national work as well.

BW: Yes. I was at NBC for three years as their "Game of the Week" announcer until they lost the contract. ABC picked it up and I worked for them for a year. I worked some big events. I did the Don Larsen no-hitter, the Baltimore Colts overtime win against the New York Giants which was called "The greatest game ever played." I also did two Knicks Championships on TV.

LS: How long have you been at your current station, News 12 Long Island?

BW: I've been there since I was 65 years old, and I am now 95 years old. You do the math. I was named the "Longest Running Broadcaster of All-Time" by the Guinness Book of World Records.

LS: We get a lot of inquiries from young sportscasters as to how to break into the business. Do you have any special advice for them?

BW: What I always tried to do were two things: Number 1 - Be different. Number 2 - In being different, be good at what I was doing. I never thought I was competing against any rival. I just wanted to be as good as I could in my style and that's what I've done. I did 31 different sports. Everything the Garden had to offer - basketball, ice hockey, tennis, boxing and the rest. So I thought being very versatile was also a great plus for me. So for any aspiring sportscasters, try to be a little different, and most of all be excellent and knowledgeable in the sports you are doing.
                       
LS: Bob, it was good talking to you. I want to wish many more years of broadcasting. You are not only my friend but one of my heroes, and most of all you are truly a legend.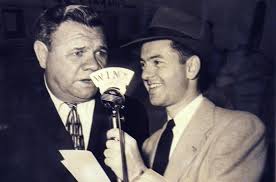 Bob Wolff interviewing NY Yankee great Babe Ruth - 1946

*                              *                                 *