Bill White Breaks Color Line in Baseball Booth: February 10, 1971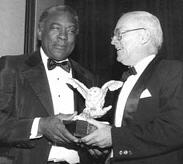 Bill White accepts Graham McNamee Award from former voice of the Detroit Tigers Ernie Harwell at the ASA's fifth annual Hall of Fame Dinner in 1989
The following is an article written by Maury Allen that originally appeared in the New York Post on Feb. 10, 1971. It was reprinted in the Post on Feb. 6, 2006, as part of the Post's "Blasts from the Past: A Look back at great moments in sports, Feb. 5 - 11."
If any more alumni of 75 St. Nicholas Place make good, they will have to retire the building and send it to the Hall of Fame.
It used to be just another apartment on just another street in Harlem. But now its graduates include Willie Mays, Elston Howard, and the newest Yankee broadcaster, Bill White.
"I go back to 1956 with Bill," said Howard at the press conference announcing White as the new voice of the Yankees yesterday. "We lived in the same building. We have always been good friends. When he was traded to the Cardinals, the Yankees and Cardinals trained in St. Petersburg and we used to go out fishing together."
Howard, who became the first black Yankee coach, beamed that his old pal became the first black play-by-play announcer in baseball.
White blushed when somebody suggested he was the Jackie Robinson of baseball broadcasting.
"We hired him," said Yankee President Michael Burke, "because he was the best man for the job."
White, 37, has never done any play-by-play but the problem doesn't worry him.
"When I was a ballplayer, I had a lot of faults. I couldn't hit the inside pitch and I couldn't run that well, but I worked hard and learned. I must have succeeded. I lasted 14 years. I intend to do the same thing with broadcasting."
White has been working at WFIL in Philadelphia. He also has been studying voice in New York with Mrs. Lillian Wilder. Howard Cosell recommended White's name to the Yankees and Burke took it from there.
The Yankees might get an extra bonus out of White. He expects to put on a baseball suit and get on the field in Florida.
"I have all this weight to lose," he said, "so I'll be working out."
A student of the game, White might make an extra contribution in offering some batting tips to Yankee hitters. Ralph Kiner has fulfilled the same function with the Mets.
"I might consider a manager's job someday if the right offer came along," said White, "who has long been regarded as one of the prime candidates for baseball's first black manager. I wouldn't mind something like Earl Weaver's job."
Weaver also has a managerial candidate in his dugout in Frank Robinson.
"I think he (Robinson) wants to manage and I think he has changed his personality to train for it," White said.
White stayed with the Yankees for 18 seasons as part of the legendary troika with Phil Rizzuto and Frank Messer. In the one-game AL East playoff against Boston in 1978, he called: "Deep to left! Yastrzemski will not get it! It's a home run for Bucky Dent!"
Post Script:White left in 1989 to become President of the National League, the first African-American to attain that lofty a position in any sport.
Frank Robinson was the first African-American manager in 1975 when he became player-manager of the Indians.