Bill Walton Returns to Broadcasting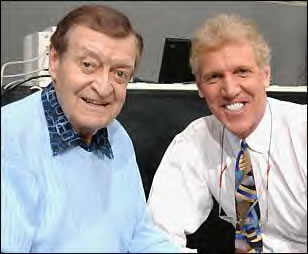 Chick Hearn (l.) and Bill Walton
Bill Walton, ASA Board Member, made his return to broadcasting on November 12, 2010, as a part-time color commentator for the Sacramento Kings.
The NBA Hall of Famer is working five or so games this year for Sacramento, all of which are scheduled to be in Los Angeles, Phoenix or worked via satellite.
In his first game back, a 103-89 Kings loss to the Phoenix Suns, Walton worked the second quarter and had brief on-camera appearances during the pre-game and at half-time.