5 Questions for Bill Walton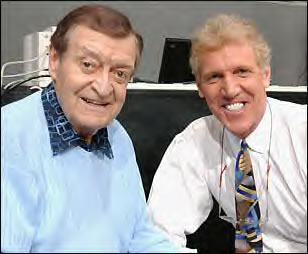 Bill Walton (r.) with ASA Hall of Famer and legendary Los Angeles Lakers broadcaster the late Chick Hearn

Recently, the New York Post's Andrew Marchand spoke with ASA Advisory Board member and ABC/ESPN sportscaster Bill Walton. Walton, 52, is in the Basketball Hall of Fame.
Q: Do you think there is a chance Phil Jackson will be the Knicks' coach next year?
A: Absolutely. I think that is the most reasonable spot for him. This is the one place where he stands the most to gain on all fronts. He has already done Chicago. He has already done LA. Not only does this present the ultimate challenge for Phil Jackson, this is what the Knicks nee as well.
Q: The feeling is that he wants to go someplace where he can win right away. You are not going to win with the Knicks right away, are you?
A: Michael Jordan and Scottie Pippen had not won until Phil got there to Chicago. Shaquille O'Neal and Kobe Bryant had not won until Phil got to LA. I'm the biggest believer in the ability of master teachers to be able to complete their masterpieces, and while in the past Phil has done one thing, why does that predict what he will do next time? The lore and the opportunity to succeed in New York is very addicting.
Q: Do you think he and Isiah Thomas could coexist
A: That is up to Phil Jackson. Historically, it has shown that has not worked. Phil and Jerry West, Isiah Thomas and Larry Bird, but what's to preclude another new scenario developing as long as the goal remains basketball success for the Knicks and their fans? Then there is no reason why it can't work.
Q:Do you think you have cut down on the hyperbole or overwhelming statements on broadcasts?
A: I would hope that I am different and better every show. I am a firm believer that consistency and predictability are one of the last bastions of the unimaginative. I love working with Mike Breen, Mike Tirico and Snapper Jones. That's what I loved as a basketball player. That's what stimulated me for 15 years - my relationships with my teammates.
Q: You must be proud of what you have accomplished.
A: Learning how to speak (Walton had a stuttering problem), it is the greatest achievement of my life. Marty Glickman was the man who taught me how to speak 25 years ago. Now, they are searching the world to find someone to teach me how to stop talking.