Bill Raftery Wins
2006 Curt Gowdy Media Award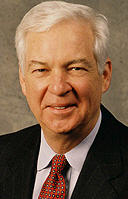 Bill Raftery, ASA member and charismatic and insightful television analyst for CBS and ESPN since the early 80's, received the 2006 Curt Gowdy Media Award from the Naismith Memorial Basketball Hall of Fame during the Enshrinement festivities on September 7-9 in Springfield, Massachusetts.
Raftery launched his media career in 1980 when he co-hosted ESPN's "NCAA Tonight", but his passion for basketball began long before his inaugural broadcast. He discovered his love for the game in Kearny, NJ, where he was an all-state high school player in basketball (and baseball and soccer), before taking his hoop skills to LaSalle University, where he played for three years and captained the team prior to graduating in 1963.
Raftery was drafted by the Knicks and had the good fortune after his release to be named as head coach at Fairleigh Dickinson – Madison, NJ (1963-1968). He went on to serve as head coach at Seton Hall for 11 seasons (1970-1981) before dedicating his efforts to a full-time career in broadcasting.
Despite his playing and coaching success, Raftery is often best known for his broadcasting abilities, using his knowledge and passion for the game to provide unique insight for the viewer while entertaining them with such trademark phrases as "Send It In!", With The Kiss" and "Man-To-Man!"
Raftery began his game analyst duties in 1982 by calling the New Jersey Nets games for SportsChannel New York (now Fox Sports Net) and began his game duties for CBS and ESPN the same year. He has been calling college and NBA games ever since. In addition, Raftery serves as an analyst for CBS/Westwood One's coverage of the NCAA Men's Final Four and Championship game and is a studio analyst for NBA-TV.
Raftery resides in his home state of New Jersey, and is married with four children and a grandson. In addition to his undergraduate degree from LaSalle, Raftery holds a MA in education from Seton Hall and received an honorary Doctorate from LaSalle University in 2001.