Bill Flemming, Former ABC Sportscaster, Dies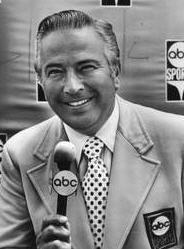 PETOSKEY, Mich. (AP) — Bill Flemming, a longtime ABC sports broadcaster who covered events as varied as the Olympics, college football and cliff diving, has died. He was 80.
Flemming died July 20, 2007, of prostate cancer in Petoskey, a Lake Michigan town near his summer cottage, his daughter, Lindy Flemming of Larkspur, Calif., said Tuesday.
In addition to football and golf play-by-play announcing, Flemming reported on more than 600 events for ABC's "Wide World of Sports" program.
He followed 11 Olympics and the showdown between chess titans Bobby Fischer and Boris Spassky in 1972. He grew up in Ann Arbor, graduated from the University of Michigan and considered the Michigan-Ohio State football matchup one of his choice assignments.
Flemming's other speciality was bringing little-known sports such as parachuting and hurling — an Irish game similar to hockey and lacrosse — to American audiences.
Flemming entered broadcasting in 1949. He worked for WWJ-TV in Detroit and appeared on NBC's "Today" show before joining ABC's "Wide World" in 1961.
Survivors include his wife, Barbara Forster Flemming; daughter Lindy Flemming; son William Mason Flemming; son-in-law Phil Andrews and grandchildren Ian and Cody Adelson.
A memorial service is scheduled for Aug. 10 at First Presbyterian Church in Harbor Springs.