ASA President Lou Schwartz Attends
Bert Sugar Memorial Service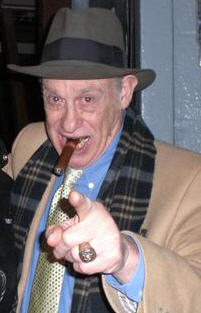 April 1, 2012-- Louis O. Schwartz, President of the American Sportscasters Association, was in attendance as a crowd of nearly 400 turned out to pay their final respects to Hall of Fame boxing writer Bert Sugar at the First Congregational Church in Chappaqua, NY, on March 31.
Ring announcer Michael Buffer was introduced followed by the Rev. Tom Lenhart, the church's minister, who welcomed the huge audience and recited the Invocation and Lord's Prayer.
This was followed by words of remembrance from friends and colleagues, and his two sons, Stephen and JB Sugar.
Stephen spoke warmly about his dad and JB reminisced about his childhood and the long list of celebrities his dad knew, including Muhammad Ali.
Ken Woodward, who attended the University of Michigan Law School with Sugar, said "Bert was famous for his quick wit and his ready one-liners."
"Simply put, Bert Sugar put the person in personal," said Mark Taffet, who worked with Sugar at HBO.
Schwartz, during an interview, stated, "I have known Bert for over 30 years and in that time, his knowledge of all sports, and sportscasters aside from boxing, never ceased to amaze me. I called him a 'walking encyclopedia of sports.' His sense of humor, love of a good party and loyalty to his friends are what made Bert so unique. He will never be replaced."
The ceremony concluded with a Final Ten Count by Michael Buffer and a rendition of "When the Saints Go Marching In."