Benny Parsons, ASA Member and NASCAR Announcer, Dies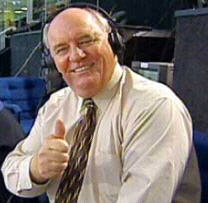 Benny Parsons, ASA member and NASCAR announcer, died on January 16 in Charlotte, N.C., where he had been hospitalized since Dec. 26 because of complications from his lung cancer treatment. He was 65.
Parsons was diagnosed with cancer in his left lung in July. Parsons, who quit smoking in 1978, underwent chemotherapy and radiation treatments and was declared cancer-free in October. But the treatment cost Parsons the use of his left lung, and he was hospitalized last month when doctors found a blood clot in his right lung. He was placed in an induced-coma.
Parsons began broadcasting in the 1980s as a pit reporter for ESPN and TBS when he was still racing a partial schedule and moved into the booth for good in 1989. He won a Cable ACE Award for best sports analyst in his first season in the booth. He also created the popular ESPN segment "Buffet Benny" on food available at race tracks. His folksy style and straight-shooting manner endeared him to fans and drivers. Sometimes referred to as "The Professor" because of his relaxed ability to deliver information, Parsons spent the past six years as an NBC and TNT commentator and continued to call races from the booth during his treatment.
The 1973 NASCAR champion, Parsons was a member of NASCAR's 50 greatest drivers and a lovable fixture at the track. He won 21 races, including the 1975 Daytona 500, and 20 poles. He was the first Cup competitor to qualify for a race faster than 200 mph, going 200.176 mph at the 1982 Winston 500 at Talladega (Ala.) Superspeedway.
Born July 12, 1941 at a rural home that lacked running water and electricity, Parsons was raised by his great-grandmother near the community called Parsonsville. He eventually moved to Detroit, where he worked at a gas station and a cab company owned by his father. After winning ARCA titles in 1968-69, he returned to North Carolina in Ellerbe to become a full-time racer, often listing "taxicab driver" as his occupation on entry forms.