ASA Sportsbeat

Sportscasting in the News
January 7, 2020

The following is some of the sportscasting news that has been making headlines recently. Please continue to send your news, comments, updates, etc., to LSchwa8918@aol.com.
On behalf of the ASA Board of Directors, I would like to wish you a Happy, Healthy and Successful New Year.

~ Lou Schwartz, President

Jamie Jarrin, legendary Spanish-language announcer for the Los Angeles Dodgers, was one of the Honored Guests for the 131st Rose Parade. The parade, hosted by the Pasadena Tournament of Roses, took place on New Year's Day to mark the start of the Rose Bowl.

We want to wish a speedy recovery to Bill Hillgrove, Lifetime ASA member and longtime voice of the Pittsburgh Steelers and University of Pittsburgh  football and basketball, who underwent back surgery.  Hillgrove has not missed a Steelers game since taking over as the head play-by-play man in 1994 and has been the voice of Pitt since the 1970s.
Tim Rosaforte, well respected golf writer and broadcaster for nearly 40 years, has retired. Rosaforte, an award winning writer for Golf Digest and Gold Week,  has served as an Insider for the Golf Channel since 2007.

David Fizdale, former coach of the New York Knicks, will return to ESPN as an NBA analyst. Fizdale, who was fired by the Knicks in early December, had done some work for ESPN between head coaching jobs with the Memphis Grizzlies and in New York.

Pat Hughes, radio voice of the Chicago Cubs, has paid tribute to longtime NBC sportscaster Bob Costas with the latest edition of his "Baseball Voices" CD.  The audio compilation features many of the greatest calls and memorable moments from the ASA Advisory Board Member's illustrious career as voice of NBC's "Game of the Week" and more.

It looks as though CBS will not renew its contract with SEC Football when it expires in 2023. All indications point to ESPN/ABC taking over the package.
IN MEMORIAM
Don Larsen, New York Yankee pitching great, died of esophageal cancer on January 1. Larsen, who played for seven different teams during his 14-year career, joined the Yankees in 1954 and became the only pitcher to throw a perfect game in the World Series. His embrace with catcher Yogi Berra after the final out of Game 5 of the 1956 World Series is one of the greatest moments in baseball history.

Sam Wyche, former NFL head coach and sportscaster, died on January 2, three days shy of his 75th birthday, due to complications from liver cancer. Wyche, the innovator of the no huddle offense joined the Cincinnati Bengals in 1984 and led the team to their only Super Bowl appearance in 1988, a loss to the 49ers, 20-16. After 3 seasons as Head Coach of the Tampa Bay Buccaneers, Wyche turned his attention to sportscasting. He joined NBC in 1996 where he worked alongside Marv Albert as a game analyst and later moved into the studio. He also worked for CBS teaming with Kevin Harlan and Gus Johnson, and Westwood One Radio with Dick Enberg.

David Stern, former NBA Commissioner who helped revitalize the NBA and turn it into the global brand it is today, died on January 1 due to a brain hemorrhage he suffered on December 13. He was 77.  Stern, who served as commissioner from 1984 to 2014, attended several of the ASA's Hall of Fame Dinners. Here he is in 1993 with former Ms. America Mary Ann Mobley and well known philanthropist and socialite Mary Lou Whitney.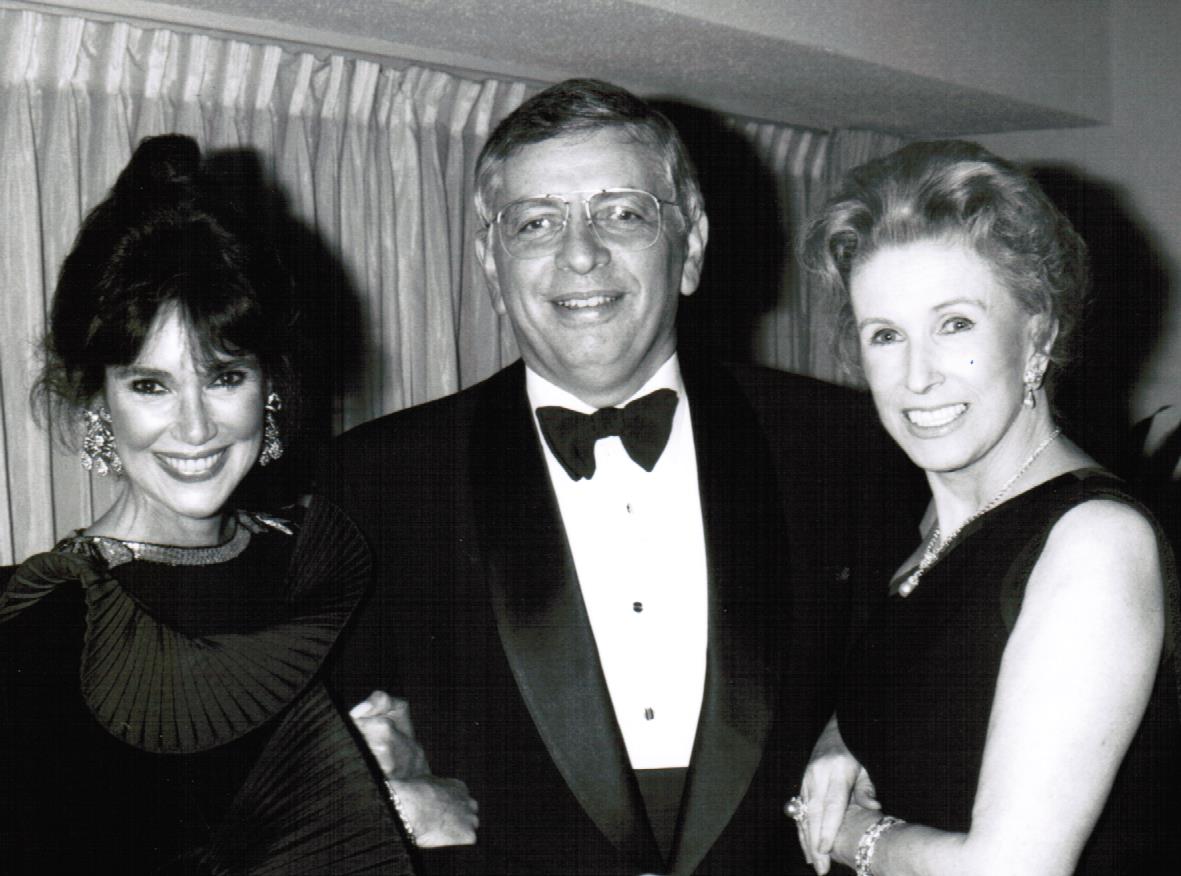 Mary Ann Mobley, David Stern and Mary Lou Whitney at the ASA Hall of Fame Dinner in 1993

*                                *                                      *