John Andariese Receives the
Curt Gowdy Media Award



by Patrick Turturro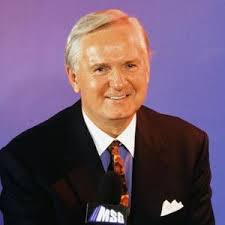 August 12, 2014 - John Andrariese, ASA member and longtime voice of the New York Knicks, received the 2014 Curt Gowdy Media Award from the Naismith Basketball Hall of Fame during the Hall of Fame Reunion and Awards Dinner on August 7.

The event served as the start to the annual enshrinement weekend which saw former NBA Commissioner David Stern and Miami Heat superstar Alonzo Mourning headline the Class of 2014. Also inducted were Nat Clifton, Mitch Richmond, Guy Rodgers, Sarunas Marciulionis, Nolan Richardson, Gary Williams, and Bob Leonard.

Affectionately known as "Johnny Hoops," Andariese was a standout player at Fordham University from 1956-1960. He played in two NIT tournaments and was team captain his senior year.

He began his broadcasting career in 1972, teaming with Marv Albert calling Knicks games on radio.  In 1983, he became the first NBA analyst for ESPN  and later joined Skip Caray on NBA telecasts for TBS. On the national level John worked for NBC doing college basketball for 10 years.

In 1986 Andariese joined Albert on the MSG Network to usher in the Patrick Ewing era. The two became an instant hit with fans, as Albert's good natured ribbing and playful sarcasm mixed well with Andariese's dry sense of humor and calm demeanor. The Knicks were also able to reclaim their glory, reaching the playoffs in each of their 12 years together, including their 1994 appearance in the NBA Finals.
Andariese also added hosting duties to his resume with the show, "NBA Legends with Johnny Hoops," on NBA TV. His reputation allowed him to secure guests such as basketball heavyweights Kareem Abdul-Jabbar, Red Auerbach, Bob Cousy,Magic Johnson,l, Oscar Robertson, Bill Walton, and Magic Johnson, just to name a few.
During his award presentation speech, Albert continued to throw a few playful jabs toward Andariese, referring to John as the "53rd leading rebounder in the history of Fordham University basketball."

Albert also reflected on their time together.

"What I take away from John's 40 wonderful years as a broadcaster is our relationship. The rapport we had both on and off the air. I certainly enjoyed kidding John to get him going and he certainly fired back."

NBA Commissioner Adam Silver was also part of the presentation, calling Andariese "a friend, a  mentor and an advisor for over 20 years." He also spoke about John's other passion, tennis, and what it was like to attend a U.S. Open with the popular New York native.

"We would have to leave the match an hour early just to get to the parking lot because virtually every New Yorker would want to stop John and  talk about their favorite Knicks memory. And John would insist on having that conversation with every Knicks fan," Silver said.

He concluded by saying, "The  name John Andariese will forever stand beside broadcasting giants Marty Glickman, Chick Hearn, Dick Enberg and of course my friend the great Marv Albert. And that's where it belongs." 
*                       *                               *