Amaury Pi-Gonzalez Keeps
Busy Behind the Mike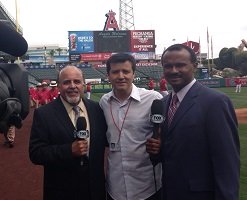 Amaury Pi-Gonzalez, Cesar Sutil and Manny Mota

Amaury Pi-Gonzalez, longtime ASA member, is keeping very busy these days.
The veteran Spanish-language announcer is the only sportscaster in the country calling the action for two Major League teams.
He is currently the TV play-by-play voice of the Los Angeles Angels AND the radio voice of the Oakland A's. He is shown above with his Angels partner Jose Mota (son of Dodger great Manny Mota) and Fox Sports Net West producer Cesar Sutil.
Like Mel Allen (one of Amaury's favorite announcers as a kid growing up in Queens, NY), used to say, "How about that!"