Al Michaels to Stay on "Monday Night Football"
by Bob Raissman, NY Daily News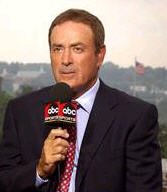 Al Michaels has a thing for Monday.
Ending weeks of speculation, Michaels yesterday said he won't be following John Madden, his "Monday Night Football" partner, to NBC Sports' NFL broadcast booth when the Peacock debuts its "Sunday Night Football" package in 2006.
Instead, he will stay in the "Monday Night Football" booth when ESPN takes over the package from ABC in 2006.
Yesterday, NBC Sports boss Dick Ebersol, on an early afternoon conference call with reporters to introduce Bob Costas as host of NBC's Sunday night NFL pregame show, confirmed talks with Michaels, designed to bring him to NBC, had broken off Monday night.
A few hours later, Michaels, vacationing in Hawaii, joined ESPN executive s on a conference call with reporters to say he will be moving to ESPN's "Monday Night Football" booth teaming with Joe Theismann.
The stage is now set fro two year-long NFL TV farewell tours this season. Madden and Michaels will work together fro the final time this season. So will ESPN's Sunday night trio of Mike Patrick, Paul Maguire and Theismann. Mark Shapiro, an ESPN executive, said Patrick and Maguire will likely stay with the network in other capacities when their contracts expire following the 2005 season.
Michaels said making a final decision was difficult. Still, in the end, his nearly three decades with ABC, which like ESPN is owned by Disney, and the "lure" of "Monday Night Football" weighed heavily in his decision to basically stay put.
Ebersol contended there was another more important issue-money.
"I can't speak for Al, but the only issue was money," Ebersol said. "He knew this was a qualitatively better package (NBC will have playoff telecasts and two Super Bowls, ESPN will have no postseason programming), but we have certain numbers we won't go beyond for certain roles."
NBC will pay Madden $4 million per year in a six-year deal, which is probably the number Ebersol would not "go beyond." It is likely NBC offered Michaels somewhere in the $3 million per year range. Between ABC "MNF" and NBA (he has a year left on that, too) gigs, Michaels currently makes around $6 million per year.
Michaels confirmed ESPN's offer was significantly better than NBC's, but emphatically stated money was not the only - or primary – reason leading him to sign with ESPN.
"If I had to make a choice based on money at this point in my life I would have to be a terrible investor. And I have not been", Michaels said. "To say this (decision) was reduced to money is absolutely incorrect. It may seem a little maudlin to people, but when I hear the words 'Monday Night,' football just naturally follows. It's spine-tingling."
Michaels' decision to move to ESON may be great news for veteran play-by-play man Tom Hammond. Ebersol said Hammond is now the leading candidate to join Madden in NBC's Sunday night booth.
ESPN will round out its "MNF" team with sideline reporters Suzy Kolber and Michele Tafoya.