Phoenix Suns and KTAR Radio Announce Dedication of
Al McCoy Media Center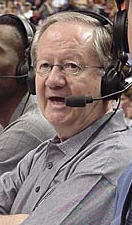 The Phoenix Suns and Sports 620 KTAR Radio will honor ASA member and Suns broadcaster Al McCoy with the naming of the Al McCoy Media Center, as announced today by Suns Chairman and CEO Jerry Colangelo, Managing Partner Robert Sarver and Erik Hellum, Vice President and Market Manager, KTAR and Bonneville Radio Phoenix.
The newly updated and improved media center will be unveiled at the beginning of the 2007-08 season and will feature displays tracing Al's legendary career.
"When I announced my first Suns game I never imagined it would become the job that defined my professional career. The Suns organization is like my family and I feel honored that they've chosen to name the media center after me," said McCoy. "I am excited to continue my career with both the Suns and Sports 620 KTAR, and look forward to sharing many more memories with fans for years to come."
As the "Voice of the Suns" for 35 seasons, McCoy currently calls play-by-play action on Sports 620 KTAR, the Suns flagship station, and on the Suns Radio Network. McCoy's consecutive tenure with the Suns is the longest with one team among current NBA broadcasters.
"I have watched with pride and admiration what Al has come to mean to generations of Phoenix Suns fans," said Colangelo. "With all he has contributed, no one could be more deserving of this honor."
"We are especially pleased that we are doing this while Al remains such an integral part of our team," added Sarver. "And I made him promise me that he's not planning to leave anytime soon."
"Not only is Al the dean of NBA play-by-play announcers, but he is simply the best there is," said Hellum. "We are lucky to have him in Phoenix, proud to have him on Sports 620 KTAR and thrilled to be able to partner with the Suns to honor Al."