Al Michaels is NFL's Choice for Thursday Night Football on NBC
Nantz and Simms
to Call Games for CBS

by Lou Schwartz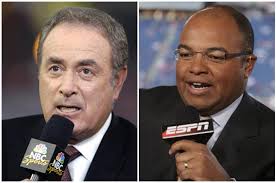 Al Michaels                               Mike Tirico

FOR IMMEDIATE RELEASE
August 22, 2016 -Former ESPN "Monday Night Football" voice Mike Tirico was looking forward to calling "Thursday Night Football" this season on NBC alongside Cris Collinsworth. However, the NFL wants the network's No. 1 announcer Al Michaels to handle the play-by-play.

"We like the idea of having the same booth announcers from Sunday night and Sunday afternoon to carry over to Thursday, Brian McCarthy, the NFL's VP/Communications, said. "We're hoping for that same magic 'Sunday Night Football' has with Al and Cris to carry over to Thursday night."

Over at CBS, which aired "TNF" exclusively last year, top team Jim Nantz and Phil Simms have handled the call and will do the same this year as they spilt the package with the Peacock Network.

It  must be disappointing for a top sportscaster like Tirico, who left the "World Wide Leader in Sports" with the notion that he would continue to cover the NFL. The only loophole is for Tirico to call a Sunday night game followed by a Thursday night matchup, as the statement issued by the NFL states: "Our contract with NBC requires that the Sunday night team also do Thursday night. It is up to NBC to determine who the talent is for both nights based on those parameters."

Calling two games a week could get tiring for Michaels. So if NBC wanted to give him a week off and the league obliged,  that could open the door for Tirico to see some NFL action.


*                        *                             *