Al Michaels Receives
2013 Pete Rozelle Radio & TV Award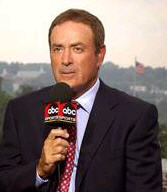 August 7, 2013 - Al Michaels, ASA member and long-time NFL voice on prime-time TV with ABC and NBC, received the Pro Football Hall of Fame's Pete Rozelle Radio & Television Award on Friday, Aug. 2, during the Hall of Fame's induction weekend. The Hall's Class of 2013 featured Larry Allen, Cris Carter, Curley Culp, Jonathan Ogden, Bill Parcells, Dave Robinson and Warren Sapp.

The Rozelle award is presented as recognition for "long-time exceptional contributions to radio and television in professional football."

Michaels is entering his eighth season as the play-by-play man for NBC's "Sunday Night Football" after a 20-year run in the same role for ABC's "Monday Night Football." He has called eight Super Bowls, including Super Bowl XLVI -- the most-watched program in U.S. television history.

A seven-time Emmy Award winner, Michaels is the only commentator to call the Super Bowl, World Series and NBA Finals, and host a Stanley Cup Final for network television.

Michaels has also covered numerous Olympics, including his unforgettable broadcast in 1980 of the U.S hockey team's gold-medal run at the Lake Placid Games when he made the memorable call of "Do you believe in miracles? Yes!" as the Americans upset the Soviet Union.
In 1995, Michaels was named the ASA's "Sportscaster of the Year," as voted by its membership, and received his award at the 11th annual ASA Hall of Fame Dinner.

Previous Rozelle winners of the play-by-play variety have included Jim Nantz (2011), Don Criqui (2003), Dick Enberg (1999), Jack Buck (1996), Curt Gowdy (1993) and Lindsey Nelson (1990).

*                      *                              *