ESPN's Rob Parker Suspended for
RG III Remarks

by Matt Fitzgerald, Bleacher Report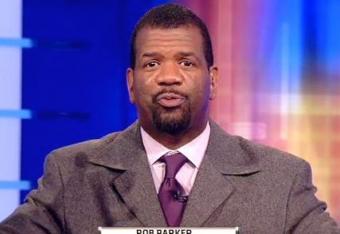 Dec. 14, 2012 - ESPN's "First Take" frequenter Rob Parker has been suspended by the network Friday as it conducts a full review in the aftermath of Parker's comments about Washington Redskins QB Robert Griffin III on Thursday's broadcast.

The comments were racially tinged and elicited a strong, negative response. Michael David Smith of Pro Football Talk documented what Parker said on air:

"My question is, and it's just a straight, honest question: Is he a brother, or is he a cornball brother. He's not really. He's black, he does his thing, but he's not really down with the cause. He's not one of us. He's kind of black, but he's not really like the kind of guy you really want to hang out with."

The image that Parker paints is that RGIII doesn't conform to the stereotype that is his race. This is another unfortunate instance of a TV personality getting on a national platform and using an athlete for his personal gain.

The notion of "cornball" allegedly comes from the fact that Griffin's fiancee is white and obviously because Griffin is apparently not "down with the cause."

It's obvious that the comments made by Parker were inappropriate, irresponsible and totally half-baked, but Griffin's father took the high road in responding to Parker's out-of-line rhetoric and how RGIII fits into the black community (h/t NFL.com):

"[Parker] needs to define what 'one of us' is. That guy needs to define that. I wouldn't say it's racism. I would just say some people put things out there about people so they can stir things up."

Robert is in really good shape on who he is, where he needs to get to in order to seek the goals he has in life ... so I don't take offense.

Robert Griffin III is simply trying to do things the right way. He has not gotten into trouble off the field, has performed like a veteran on it and is revolutionizing the game at the quarterback position.

If that's cause for having an issue in Parker's eyes, then so be it.

Thought-provoking, debate-based sports programs can cause fans to think about the game in a different way, but what Parker said about RGIII does a disservice to that cause.