Marv Albert Returns Home
by Lou Schwartz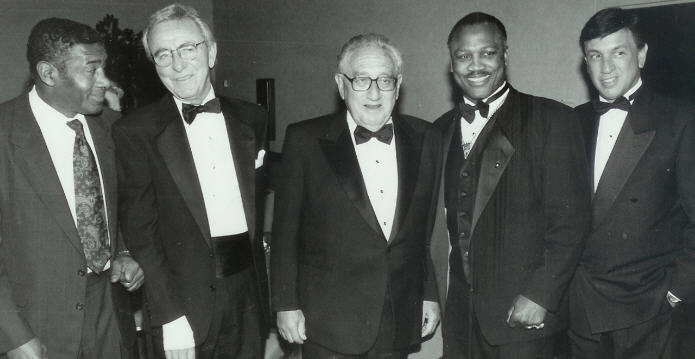 Marv Albert with Joe Frazier, Dr. Henry Kissinger, Chris Schenkel and Floyd Patterson at the ASA's 12th annual Hall of Fame Dinner - 3/18/97

October 26, 2012 - Marv Albert, one of basketball's great sportscasters, returns to the place of his birth, Brooklyn, on Thursday, November 1st, to announce the Brooklyn Nets' home opener against the New York Knicks.

Marv stated that when he wrote on his chart 'Brooklyn Nets' for a Nets-Celtics exhibition game on TNT, "It was like, 'wow.' It kind of hit me. I didn't think it would but it did."

Albert, whose parents owned a grocery store in Brighton Beach, Brooklyn, grew up in Manhattan Beach, which borders Brighton.

In commenting about opening night at the Barclays Center next week which will be shown nationally on TNT, Albert stated, "We'll be measuring crowd reaction more than anything else, even though I feel it's a process in terms of when it will be mostly a Nets crowd for a Knicks-Nets game. That's compelling. To me, the Nets will really know that they've made it when at a Knicks-Nets game, most of the cheering is for them."

Albert will team up with his partner Steve Kerr and we can be assured both will perform in a way that will make the nation once again recognize Brooklyn as a sports town.