Annoucers Named for Sept. 11 "MNF" Doubleheader
by Andrew Marchand, NY Post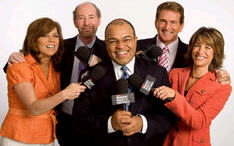 For the second half of its season-opening Monday Night Football doubleheader on Sept. 11, ESPN will have ASA members Brad Nessler, Ron Jaworski and Dick Vermeil in the booth.
With MNF moving to cable this year, the NFL has set up ESPN with a unique football doubleheader. Its first game, Minnesota at Washington, will begin at 7pm with ESPN's lead MNF team of ASA member Mike Tirico, Joe Theismann and Tony Kornheiser calling the action. ASA member Michele Tafoya and Suzy Kolber will be on the sidelines.
At 10:15 pm, Nessler, Jaworski and Vermeil will be in Oakland for the Chargers-Raiders game. ASA member Bonnie Bernstein will be the sideline reporter.
After Al Michaels backed out of his signed contract in order to join NBC earlier this year, Nessler was a runner-up for the top MNF play-by-play job that eventually went to Tirico.
Vermeil, who will also work NFL Network games later this season, coached Jaworski when the two led the Philadelphia Eagles to Super Bowl XV in January 1981.