Louis O. Schwartz Attends the "Year of the Horse" Chinese New Year Celebration at the New York Presbyterian/Lower Manhattan Hospital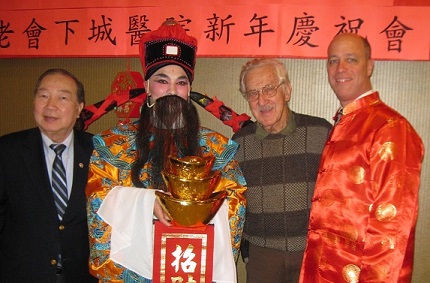 Paul Ng, President of the Chinese Consolidated Benevolent Association; the Chinese "God of Fortune"; Lou Schwartz, ASA President and Hospital Advisory Board Member; and Michael J. Fosina, Senior Vice President & Chief Operating Officer, NY Presbyterian/Lower Manhattan Hospital, at the hospital's Chinese New Year Celebration, Feb. 5, 2014

For Immediate Release                            Contact: Patrick Turturro
New York, NY                                                            212-227-8080

February 6, 2014 - Louis O. Schwartz, President of the American Sportscasters Association and Advisory Board member of the New York-Presbyterian/Lower Manhattan Hospital, was a guest at a special party to celebrate the Chinese New Year, the "Year of the Horse," on Wednesday, February 5, 2014, at the hospital reception hall.

The celebration featured a Traditional Lion Dance, Children Dancing from the Brooklyn Chinese American Association and a Chorus Performance by the Salvation Army Gospel Chinese Opera Group.                                   

There was also a special plaque presentation to Paul Ng, President of the Chinese Consolidated Benevolent Association, and Dr. Laura Forese, Group Sr. VP of NY Presbyterian/Weill Cornell and President of NY Presbyterian Healthcare System, followed by a Roast Pig Cutting Ceremony.

Those in attendance included Michael J. Fosina, Senior Vice President & Chief Operating Officer, NY Presbyterian/Lower Manhattan Hospital; Chui-Man Lai, Hospital Director of Patient and Physician Services and Hostess of the event; and Anthony S. Ercolano, D.Min., Hospital Manager, Special Projects.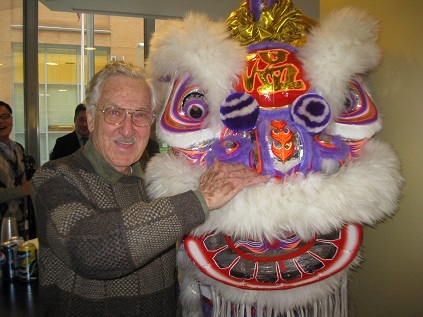 Lou Schwartz enjoys the traditional Chinese Lion Dance
*                          *                                  *