Bob Wolff Receives Curt Gowdy Media Award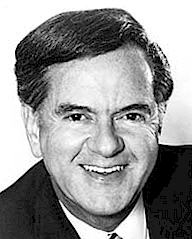 Bob Wolff, one of the most honored and longest-running sportscasters in the nation, received the Curt Gowdy Media Award from the Naismith Basketball Hall of Fame during their annual induction ceremonies on September 5 in Springfield, Mass.
Wolff began his broadcasting career in 1939 on CBS Radio in Durham, North Carolina while attending Duke University. The Phi Beta Kappa graduate broadcast a variety of college sports, including basketball games throughout the state.
Now in his 69th year on the airwaves, Wolff just signed a new two-year contract with News 12, Long Island, where he began in 1986. He continues to be seen and heard also on Madison Square Garden programs, a fixture there since 1954.
Wolff added TV to his radio schedule in 1946 as a pioneer telecaster of the Washington Capitols in the Basketball Association of America, later named the NBA. Red Auerbach was the coach. As TV developed, so did Bob's career. He began broadcasting and telecasting network national events and, during the 50's and 60's, became the first and only broadcaster to do play-by-play of the championships of the four major pro sports - the World Series in baseball, the National Basketball Association Championship, the National Football League Championship, and the Stanley Cup Hockey Championship.
The TV voice of the Knicks two championships in 1969-70 and 1972-73, Wolff was the Knicks play-by-play caller for 27 years and was also the TV voice of Garden college basketball including the ECAC Holiday Festival for 29 years, the National Invitation Tournament for 25 years, and the College TV Game-of-the-Week. Seen and heard locally, regionally, and nationally with the Knicks, Rangers, college games and other Garden sports since 1954, Wolff has telecast more games and events at Madison Square Garden than any other sportscaster.
Bob Wolff was also the first play-by-play telecaster of women's college basketball at Madison Square Garden. One highlight was calling Carol Blazejowski's record-setting 52-point game for Montclair State against Queens College in 1976.
Bob received the NIT Media Award in 1992, and has been the New York State Sportscaster of the Year six times. Wolff has won a Cable ACE Award and two Emmys (1989, 1990) for outstanding on-camera work. For his contributions to Madison Square Garden, Wolff was named to the "Walk of Fame" in 2003. He is in the National Sportscasters and Sportswriters Association's Hall of Fame, the New York City Basketball Hall of Fame and was also elected to the Broadcast Wing of the National Baseball Hall of Fame.
Bob and his wife Jane have been married for 63 years, have three children and nine grandchildren. They live in Rockland County, New York.