Al McCoy

Longtime Voice of the
Phoenix Suns to be Inducted into Suns' Ring of Honor
by Lou Schwartz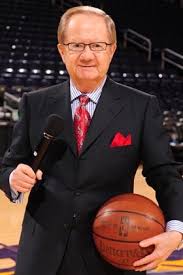 FOR IMMEDIATE RELEASE
March 3, 2017 - The Phoenix Suns will be taking on the Oklahoma City Thunder tonight at the Talking Stick Resort Arena in Downtown Phoenix. But for beloved Suns announcer Al McCoy, it won't be just another night at the arena.

McCoy, who is in his 45th year as the radio voice of the Suns, will be inducted as the 15th member of the Suns' "Ring of Honor" during a special halftime ceremony.

Fourteen times the Lifetime ASA member has stood at center court to introduce the newest Ring member and now it's his turn. He will be joining so many of the great players he had a chance to watch and talk about over the years including Connie Hawkins, Dick Van Ardsdale, Tom Chambers, Kevin Johnson, Steve Nash, Dan Majerle, and Charles Barkley, who likened McCoy to a member of the family.

"With Al, it's like you're sitting there watching and listening to the game with your grandfather," said Barkley, who played for the Suns from 1992-96. "This is long overdue."

This season, the 83-year-old McCoy surpassed legendary Lakers' voice and ASA Hall of Famer Chick Hearn as the longest tenured NBA broadcaster. For McCoy, it's an accomplishment that seemed unlikely given his humble beginnings.

"This all started for a farmboy from Iowa who came into the NBA when there was only 16 teams and now there's 30. With all the great players and great games and the last minute shots and the triple overtime games,  it's kind of hard to even imagine what has transpired in the 45 years that I've been with the Suns but I wouldn't give it up for anything."

McCoy arrived in Phoenix in the late 1960s as the announcer for the new Triple A team of the San Francisco Giants. When the team moved, he took a job as a TV anchor and also started doing play-by-play for Arizona State football and basketball. Believe it or not, McCoy was actually doing hockey in the old Western Hockey League when the Suns came to town and General Manager Jerry Colangelo, who later became the owner,  approached him about becoming the team's announcer.

The rest, as they say, is history.
*                       *                          *